GEOFENCING : THE NEW PROXIMITY MARKETING TOOL TO POWER MOBILE ENGAGEMENT CAMPAIGN
Geofencing enables warning a mobile application based on the user's location. Geofencing notifications can be triggered on events such as when the user enters in a defined zone, exits the zone or keep staying in it. With the NAO suite, geofencing areas are simply drawn on the map from the NAO Cloud platform then synchronized and executed by the NAO SDK inside the mobile application.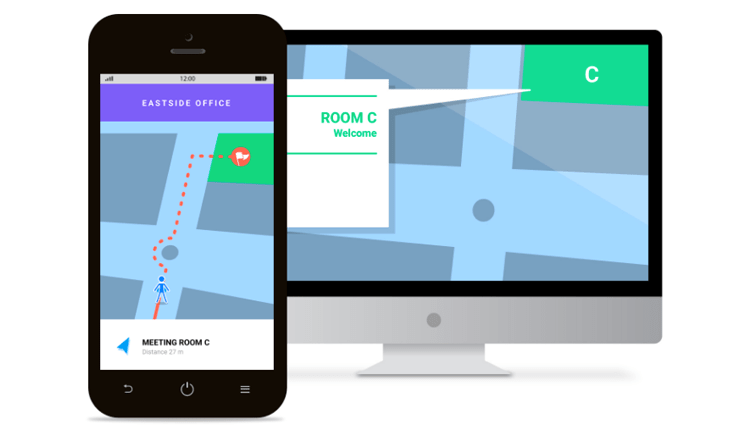 PROXIMITY MARKETING
Thanks to push notifications on a mobile terminal (ie. Smartphone, tablet) you engage with visitors easily, without the visitor having to make any special effort. The visitor simply chooses to benefit from associated services and downloads the application offered.
DELIVERING CONTENT OR INFORMATION
When the user is near a point of interest, the geofencing service makes it possible to engage with the user (share content associated with a product, a site, a work of art) using contextualized, targeted, ultra-relevant messages (ie. a description of a product or site,a geolocated moment marketing campaign, the presence of equipment that requires maintenance….).
ZONE ENTRANCE AND EXIT DETECTION
Ultra-accurate detection of visitor entrance and exiting from virtual zones is only possible thanks to the powerful NAO location engine.
Accurate geofencing service is deployed thanks to the NAO location engine which in particular merely requires the installation of a few NAO BlueSpot beacons in zones, enabling accurate detection of entrances and exits. This type of usage allows better management of movements and optimized traffic management. Often implemented in the corporate campuses to monitor the room occupancy, the entrance and exit detection can produce high added value.
CONNECT WITH MOBILE ENGAGEMENT PLATFORMS
Precise geofencing is a very powerful feature to fuel mobile engagement platforms. The high accuracy of our geofencing feature, opens new horizons and create new value to accurately target and re-target a visitor, whatever the place and whatever the use cases.