Indoor positioning - The key feature to integrate an Indoor GPS into your mobile App
Among all Mobile services, Location based Services are the most appreciated by the end users. This is why we define Indoor Positioning as the first accessible level of service.
It will help you to create value into your mobile apps: Way Finding, Step by Step Navigation, Friend Finders, Tag my Slots, are some features which could be implemented thanks to our Indoor Positioning Services

Thanks to unrivalled track record and customer feedback, the Pole Star products have been optimized for a wide list of use cases .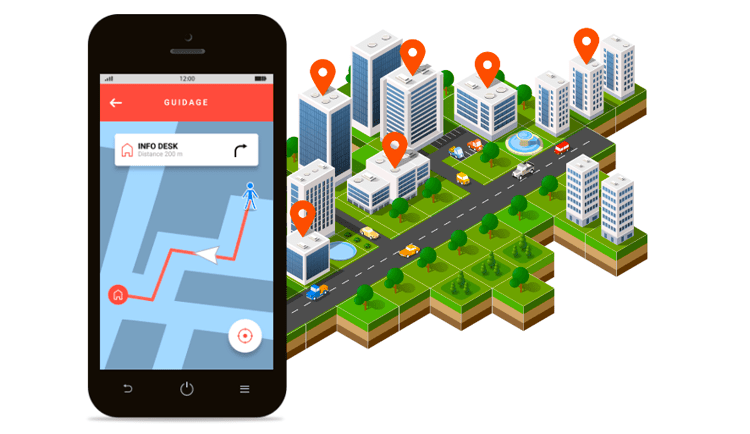 With its unique hybrid technology, the powerful fusion engine and the intelligent management of all sources of data and embedded sensors (accelerometer, compass, gyrometer, pressure sensor, Bluetooth, Wifi, GPS), the solution is fully adapted to any  type of environment  in a manner which minimizes the battery drain
WAYFINDING & STEP BY STEP NAVIGATION
The first purpose of indoor geolocation is to guide the user, helping him or her to get around easier and saving time. The combination of an interactive map integrated into a mobile application and a blue point representing the user's position in real time, makes it possible to deliver route calculation and turn-by- turn guidance in any environment. These services are extremely useful in an airport or train station to guide travelers to the boarding gate or platform, in a shopping center or a large office building, among other places.
Personalized guidance tailored to user needs, is a key factor when it comes to optimizing operating costs for the owner or manager of sites.
NETWORKING – FRIEND FINDER
Lost your colleagues in an exhbition, your friends or family members in a shopping Malls, waited too long for your colleagues to meet up with you in an airport, a corporate campus ?
Finding your way is not always easy, but finding someone else can be even more challenging. Indoor geolocation makes your life easier by sharing your position with your commununity, family or co-workers, and allowing you to locate someone else's position on the same site. The geolocation service is a key factor when it comes to optimizing time and increasing competitiveness.
TAG MY SLOTS
Have you ever forgotten where you parked your car? Have you ever needed to locate a broken down device inside a large campus ? Have you ever needed to share a point of interest inside a venue, a shopping mall, a museum, a work place…, with your personal or professional community?
The indoor Positioning service offers you the opportunity to implement the indoor geo tagging feature to bring to your Location Based app, more valuable features to speed up the adoption.