NAO Suite - A single doorway to a full set of services!
The NAO suite offers a full access to the different level of highly efficient services, to make your indoor location based services a success. Indeed, Indoor Location or Indoor Positioning system (IPS) brings now great added value to all market sectors, whatever the end users, professional or consumer.
We integrate into our different level of services, all the expertise, background, customer and user feedback to make them fully in line with market trends and expectations.
Indoor Positioning, Precised Geofencing, And Indoor Location, Analytics are all available throught the same single doorway.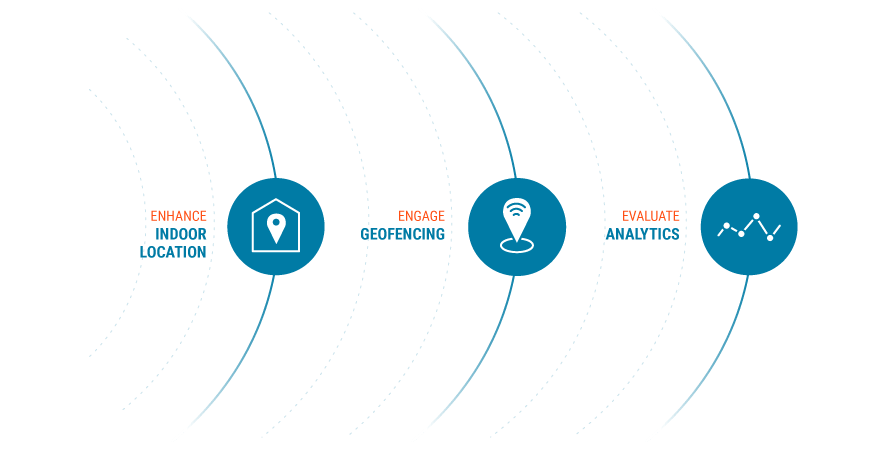 NO NEED TO BE A SPECIALIST
You don't need to be a specialist of the IPS to take benefit from our different level of services. All have been designed to be simple. Simple to understand, simple to integrate into your mobile apps, simple to implement, simple to manage, simple to maintain and simple to push forward.
We designed our different level of services to make your Indoor Location based mobile apps extremely intuitive with very high added value, delivering more relevant, no intrusive, tailored content, to better fit with your targetted end user needs.
EXTENSIVE IN-THE-FIELD EXPERIENCE
A pioneer and leader on the indoor geolocation market for over ten years, Pole Star delivers ergonomic, easily deployable, scalable indoor geolocation solutions to be integrated into your mobile services.
RELIABILITY, PERFORMANCE, SCALABILITY, INNOVATION
Today, Pole Star has the maturity in the field of indoor geolocation to deliver solutions to the market's most complex challenges.
In the heart of a unique ecosystem of partners, experts in the development of geolocated mobile apps, Pole Star provides high tech, easily and rapidly deployable, complete solutions and products.
Pole Star delivers much more than a simple indoor geolocation range. We actively engage with customers, providing global, innovative solutions accross every phase of the partnership including profiling, targeting, guidance, interaction, optimized visibility, space management and optimization, and location data analysis. Tried-and-tested by customers and users, the Pole Star range is complete, scalable and reliable.
GLOBAL VISION: THE POWER OF INDOOR LOCATION DATA
Our commitment : The data are yours! and we help you to take benefit from them. No one will use your data without your knowledge.
Data has value only to the extent to which it is analyzed and understood! As a strategic advisor on indoor location data, Pole Star is committed to supporting customers when it comes to data optimization.
Pole Star takes the issue of privacy very seriously. Data collection is anonymous and is subject to user approval. Our technologies are designed to provide users with dedicated, relevant, high value added content and services, and are not meant to be used to develop intrusive services. Applications and mobile services using the NAO technology from Pole Star, must always give the user the right to opt in or out of the geolocation service.